Autistic Farmers Of America (AFOA) is a model organic farm allowing an autistic adult to gain farming skills with crops and animals.  The leadership for this operation is provided by a disabled American combat Veteran.
Click the video to the right to view "The AFOA Farm" and Tim, our Autistic Farmer.  More surprises can be found by viewing all the pages of the Autistic Farmers Of Americ website.
LT Bobby Ross
More AFOA Videos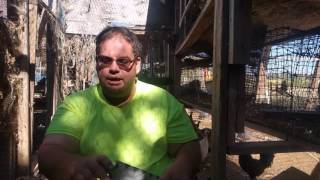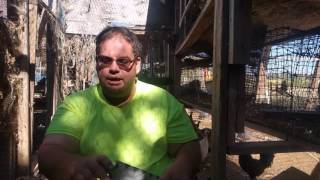 ---
NOTE: This website is not meant to treat or diagnose autism spectrum disorder (ASD) and should not take the place of healthcare from qualified professionals.
---
MISSION:
Observe the progress of an autistic adult working on a farm.
VISION:
Building self esteem for an autistic adult mastering farm chores while helping to raise public awareness of autism spectrum disorder (ASD).
---
Some facts about autism:
The Centers for Disease Control and Prevention (CDC) estimates autism's prevalence as 1 in 68 children in the United States. This includes 1 in 42 boys and 1 in 189 girls.
An estimated 50,000 teens with autism become adults – and lose school-based autism services – each year.
Around one third of people with autism remain nonverbal.
Around one third of people with autism have an intellectual disability.
Certain medical and mental health issues frequently accompany autism. They include gastrointestinal (GI) disorders, seizures, sleep disturbances, attention deficit and hyperactivity disorder (ADHD), anxiety and phobias.
Note: In 2013, the American Psychiatric Association merged four previously distinct diagnoses into one umbrella diagnosis of autism spectrum disorder (ASD). These included autistic disorder, childhood disintegrative disorder, pervasive developmental disorder-not otherwise specified (PDD-NOS) and Asperger syndrome.
---
We are accepting gifts in order to maintain our AFOA Farm and observe an autistic Adult work with our farming staff and learn how to farm.  Every gift of $10 dollars buys a 50 pound bag of cracked corn.  Every gift of $15 dollars buys a 50 pound bag of protein rich laying pellets or medicated chick starter.  Our Survival Farm is not in retail or wholesale business because our large flock of poultry (2000) and rabbits are not for sale but are strictly for educational purposes.  Autistic people are more comfortable with this system in order to 'love' the animals they are breeding.  Each person who contributes to our AFOA will be presented with documentation making them official members of our Autistic Farmers Of America.

---
From Our Friends:
Dear friends, Over the last nine years, the Autistic community has grown and changed. The Autistic Self Advocacy Network was founded to defend our community's interests and champion our voice against those who speak about us, without us. Since then, Autistic people have secured greater visibility in public discussions around autism, a seat at the table in policy conversations about us and the ability to respond when we continue to be excluded. We're proud of what we've done – in partnership with you and a growing community of autistic-run organizations and initiatives – to help bring about that change. But more is needed. Hundreds of thousands of people with disabilities still languish in institutions and are paid less than minimum wage. Toxic stereotypes about autism still pervade the public discourse and hurt our people and our families. Too much of our community goes without needed services. We can still do better. That's why we remain committed to working with the Autistic community to continue to build our movement's strength. We're proud to be the premier autistic-run disability rights organization in the United States, and we know that it is because of our dedicated grassroots supporters and activists that everything we have accomplished was made possible. As we approach the end of our first decade, we are proud of what our community has accomplished to date – and even more so of what will be accomplished still. As always, Nothing About Us, Without Us!
Ari Ne'eman
---